Club Activities
CQ CQ CQ - 2014 ARRL Field Day!
It's that time again! In case you have not heard, the 2014 ARRL Field Day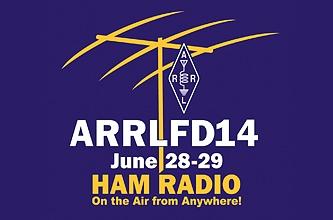 is right around the corner! If you don't know what Field Day is, you missed a GREAT presentation at the club meeting last month. You can check it out at here ... however, you'll miss out on the awesome commentary. To quote the ARRL, Field Day is part educational event, part operating event, part public relations event – and ALL about FUN! We will be operating at the same location as we were last year - Wilgrove Park in Mint Hill: 7750 Jim Harper Lane, Mint Hill, NC 28227. Setup will begin around 1:00pm on Friday, June 27.
And what does W4BFB do to help kick off Field Day with a lot of fun? Why, we have a picnic! Everyone loves food, right? However, to make sure we have enough food for everyone who is coming (and yes, all of your friends and family can come out as well), we need to have a rough headcount as to who is coming. If you can go to the Field Day Picnic Signups and verify your information is accurate on the spreadsheet, we would appreciate it. If you aren't on there - go ahead and add yourself! Mary and Tom Hunt will be taking care of getting some of the food, but there are some things we still need. If you would like to help, keep an eye out for the article Mary has written for the newsletter with more information on that, or you can reach out to her directly.
Now... before we can enjoy this great meal and fellowship together... things need to be set up so we can operate. When does that happen, you ask? Why - Friday afternoon/evening! We absolutely need your help with this. If we don't have enough people, it's just plain unsafe for us to raise towers. We have multiple towers, dipoles, beams, and rotators to get set up, along with tents, trailers, and operating stations. This is a great opportunity for new hams, as you get to see various setups and equipment, and also get to see how it all fits together. If you are available at any time to help us set up (we were there easily until Dusk last year I believe -- we'll be monitoring the repeater if you have questions that day) please sign up on the Field Day Signup Sheet so we can make sure we have enough bodies out there to help us out.
Wait a minute, you ask. What about who's actually operating the radios after all this hard work? Well - good news! The same link, w4bfb.org/fieldday-signups, has spots for operating times. The goal is to have someone on every station from start to finish, with as little gaps as possible. If you want to look at the points side, Digital and CW get the most points - so we really like these stations to be manned as much as possible. That doesn't mean Phone/SSB is not fun. When CW isn't in use, we have a tuner handy and will hop on SSB over there as well. If you look at the site, you will see slots for both operating and logging - it's usually a two man job, so you can swap off as you are working your shift(s). You may want to try to coordinate with a friend for operating together, or maybe reach out to an Elmer to work alongside to learn some of their HF skills and tricks. We are not huge sticklers to sticking to that schedule either - if you just want to show up - we'll have somewhere for you. We will have everything from Digital to Phone, CW, 6-Meter, 2-Meter, Packet, Satellite, GOTA, and probably more that I am forgetting about right now. We'll have a tent set up for just hanging out in. It will be a great time. Please sign up for when we can expect to see you there at w4bfb.org/fieldday-signups.
Join Us for Dinner!
Come out and join us for dinner before the monthly club meetings and indulge in some great food and great conversations. Stay tuned to the website to see what great restaurant we choose this month! We hope to see you there!
Upcoming Public Service Events
For more information and to sign up to help, go to

Monthly Club Meeting:
Our club's regular monthly meeting is held on the last Tuesday of each month (except December) beginning at 7:30pm, at St. Giles Evangelical Presbyterian Church, 2027 Emerywood Avenue, Charlotte NC. All visitors are Welcome.

Club meeting's are where we can all come together to see old friends, make new friends, meet the person that goes with the voice and the callsign, find someone to help with a radio problem, learn other's experience with a piece of gear, or just plain yak with someone. We tell war stories, encourage new Hams, encourage old Hams, divulge our secret techniques of operating or fixing, discuss current Ham radio events, promote upcoming public service events or remember those we have done. For most meetings, we try to enlist an interesting presentation of a program topic about something in the communications world. We have had some very interesting topics presented. Sometimes we explain what's required and how to accomplish the best hamfest in the southeast, sometimes we horsetrade radio fleas at a club auction, and when December comes, we get all gussied up for our annual Holiday party.

It's important to come to club meetings because that's where everything comes together. You get to lobby members of our Board of Directors (and they really like to hear what everyone is interested in because it makes their job easier). Club meetings are such an important part of our group that we require attendance of at least 7 of the last 12 meetings to be eligible for nomination to our Board of Directors.
Latest MARS-W4BFB News:
Mobile users click here for complete News Box.
---
posted 6/10/2014
MARS has a new meeting space
, starting in
July!
(July 29th, the last Tuesday in July this year.)
We will be moving our monthly club meetings to the newly completed Fellowship Hall at
St. Giles Evangelical Presbyterian Church
. The church is located in the Montclaire neighborhood at
2027 Emerywood Avenue
. Here's the
[link]
to a short slideshow to give a bit of a photo tour of the new facility so that you know what to expect and what to look for:
---
Posted 3/29/2014
We will again be supporting the CCTTA Cycling Events at Charlotte Motor Speedway this year.
The first event is Wednesday, April 9th. We have to be in position by 6:00 pm as the event starts promptly at 6:30 pm. The event normally ends around 8:30 pm. We use a 440 simplex frequency for the event.
If you have never worked the event before and are interested we will partner you with a radio operator who has worked the event in prior years.
Please send me an email if you are willing to volunteer your time for the April 9th event. The week of the event I will send out the assignment list for everyone who is working the event.
Mary S Hunt, N4MH
---
Posted 3/1/2014
The Mecklenburg Amateur Radio Society just lost one of our first lifetime members. Mary Weddle, WC4T, went to be with the Lord after a difficult month of illness, she was 81. Mary was our club secretary and newsletter publisher for years in the 1980's and 90's. Mary's newsletter editions were award winning and widely acclaimed not just in our membership but also in neighboring counties.
In 1984 when the FCC started the Volunteer Examiner program to administer FCC amateur radio exams, Mary was one of the first Volunteer Exam Coordinators (VEC) in the United States. I have heard many Hams who took exams at one of her exam sessions remark about her caring, interest, and encouragement, toward their success (including candy). Mary also for years was the Saturday Metrolina 2 Meter Emergency Net controller. When she was there the Saturday night net had the largest participation and the longest airtime of the week. Mary was well known and loved by many Hams across all of our adjacent counties.
Mary's service will be Monday March 3 at Bible Presbyterian Church, 6237 Rumple Rd, Clt (just off of Sugar Creek in Derita). visitation at 2:30, service at 3:30.. 73, John
---
updated 2/25/2014
Tuesday, Feb 25, Ham Radio will be the topic on "Charlotte Talks" with Mike Collins, WFAE FM 90.7. The show airs live @ 9AM and is replayed at 9PM. MARS's own Paul Jones K4VCF and TIm Slay N4IB will be in the studio live talking about ham radio, the upcoming Charlotte Hamfest and the ARRL's Centennial.
Hear the show now at
http://wfae.org/programs/charlotte-talks-wfae
---
posted 10/8/2013")
Weather Radio on 94 repeater
.
In case you have not already heard, the weekly NWS testing has been enabled on the weather radio in the .94 site. I needed to do this because we do not get very many alerts thru the winter months and this will ensure everything is still working as it should be. The weekly test is Wednesday's at 1pm and in the event there is threatening weather in the area, tests are cancelled until the following week.
Just wanted you to be aware in case you start hearing it on Wednesday's. In addition, you will NOT hear the WX radio on Earl's 444.350 machine anymore. 146.940 and 224.400 will continue to broadcast WX alerts.
73-Bryan=K4NET
---
posted 10/5/2011
UPDATE: IMPORTANT: W4BFB Repeater CHANGES!
ALL W4BFB repeaters will require use of CTCSS (pl) tone 118.8Hz for access
SOON
. The 146.94MHz, 444.600MHz, and 145.23MHz repeater now require a 118.8 CTCSS tone.
---
If you have news that you think needs to be added to the News box, send it to for review and posting.
ARRL News Feed
eHam News Feed