Club Activities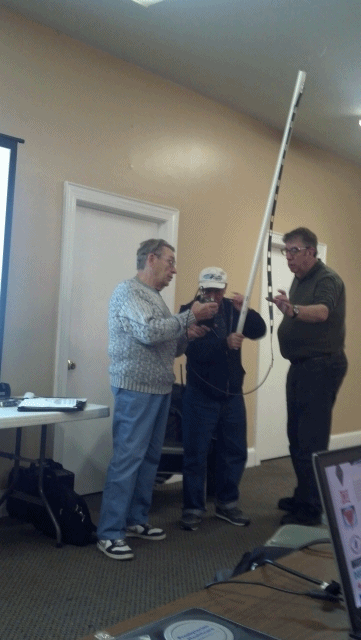 Club Meeting November 2013
Join Us for Dinner!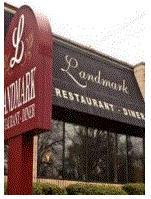 Come out and join us for dinner before the monthly club meetings and indulge in some great food and great conversations. We meet every month at Landmark Restaurant Diner around 5:00pm. The address of the restaurant is 4429 Central Ave, Charlotte, NC 28205. See you there!
Upcoming Public Service Events
For more information and to sign up to help, go to

Monthly Club Meeting:
Our club's regular monthly meeting is held on the last Tuesday of each month (except December) beginning at 7:30pm, at East Baptist Church, 6850 Monroe Rd (next to East Mecklenburg High School, near Conference Drive). All visitors are Welcome.

Club meeting's are where we can all come together to see old friends, make new friends, meet the person that goes with the voice and the callsign, find someone to help with a radio problem, learn other's experience with a piece of gear, or just plain yak with someone. We tell war stories, encourage new Hams, encourage old Hams, divulge our secret techniques of operating or fixing, discuss current Ham radio events, promote upcoming public service events or remember those we have done. For most meetings, we try to enlist an interesting presentation of a program topic about something in the communications world. We have had some very interesting topics presented. Sometimes we explain what's required and how to accomplish the best hamfest in the southeast, sometimes we horsetrade radio fleas at a club auction, and when December comes, we get all gussied up for our annual Holiday party.

It's important to come to club meetings because that's where everything comes together. You get to lobby members of our Board of Directors (and they really like to hear what everyone is interested in because it makes their job easier). Club meetings are such an important part of our group that we require attendance of at least 7 of the last 12 meetings to be eligible for nomination to our Board of Directors.
MARS - W4BFB New Year's Party

Saturday, January 11, 2014
Time: 6:00 PM
Location: 6030 Central United Methodist Church
Albernarle Road, Charlotte, NC 28212
$5.00 per person.
Need your check by Jan. 1st 2014.
Mail your checks to:
Mary Hunt
16007 Wynfield Creek Pwy.
Huntersville, NC 28078
Latest MARS-W4BFB News:
Mobile users click here for complete News Box.
---
posted 12/06/2013")
NEXT 2014 Charlotte Hamfest™ meeting,
Wednesday December 11th 6:30pm.
. All MARS members invited. Location: W4BFB clubroom Rm 023,in Red Cross Blood Services Bldg 2425 Park Rd.
---
posted 11/27/2013
MARS Election Results for 2014 Officers and Directors.
President:
Andy Hawkins - K4GKK
Vice President:
Mitch Barbato - KX4MB
Secretary:
Stefanie Comerford - KK4LZR
Treasurer:
Tom Hunt - KA3VVJ
Directors:
Charles Comerford - KK4HOK - 2014
Patrick Fink - W4PFI - 2015
George Hohas - W4GEH - 2014
Paul Jones - K4VCF - 2015
John White - WB2NHQ - 2015
---
posted 10/8/2013")
Weather Radio on 94 repeater
.
In case you have not already heard, the weekly NWS testing has been enabled on the weather radio in the .94 site. I needed to do this because we do not get very many alerts thru the winter months and this will ensure everything is still working as it should be. The weekly test is Wednesday¹s at 1pm and in the event there is threatening weather in the area, tests are cancelled until the following week.
Just wanted you to be aware in case you start hearing it on Wednesday¹s. In addition, you will NOT hear the WX radio on Earl¹s 444.350 machine anymore. 146.940 and 224.400 will continue to broadcast WX alerts.
73-Bryan=K4NET
---
posted 9/30/2013")
Charlotte Hamfest 2014 update
.
Bill-W4GRW has already booked some great forums for the Charlotte Hamfest.
ARRL forum with ARRL President Kay Cragie-N3KN, FT5ZM Amsterdam Island DXpedition with Bob-K4UEE, K9W Wake Atoll Commenorative DXpedition with Lou-N2TU, and Earning first American Novice DXCC with Bill-W4ZV.
---
posted 05/2/2013
Greetings Everyone !
Mecklenburg County has a new ARES Emergency Coordinator ! Please welcome and congratulate
Tony Lewis / KE4VVF
, the new Mecklenburg County ARES EC.
I have not left the EC position but accepted the ARES EC position for Union County. Since I live in Waxhaw, it is a logical logistic move.
Please help and support Tony in his new ARES position !
73's Jerry Brewer / N4MIU
Union County ARES EC
www.unioncountyares.org
---
posted 4/24/2013
Jim MacLeod, W4NHV (sk)
Jim was the last surviving founding member of the Mecklenburg Amateur Radio Society. He was declared a life member years ago. Even though he had lived in Lumberton for many years, we were fortunate to have him come to Charlotte speak at one of our club meetings in 1999, and he attended other club activities from time to time.
I first met him over thirty years ago when I lived in Fayetteville. He was instrumental in forming an active ARES group in Lumberton at that time, and later on was active in the Robeson County ARS.
73
John Covington, W4CC
Link
to his obituary.
---
posted 10/5/2011
UPDATE: IMPORTANT: W4BFB Repeater CHANGES!
ALL W4BFB repeaters will require use of CTCSS (pl) tone 118.8Hz for access
SOON
. The 146.94MHz, 444.600MHz, and 145.23MHz repeater now require a 118.8 CTCSS tone.
---
If you have news that you think needs to be added to the News box, send it to for review and posting.
ARRL News Feed
eHam News Feed