Club Activities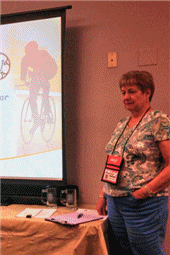 Club Meeting
Join Us for Dinner!
Come out and join us for dinner before the monthly club meetings and indulge in some great food and great conversations. Stay tuned to the website to see what great restaurant we choose this month! We hope to see you there!
Monthly Club Meeting:
Our club's regular monthly meeting is held on the last Tuesday of each month (except December) beginning at 7:30pm, at St. Giles Evangelical Presbyterian Church, 2027 Emerywood Avenue, Charlotte NC. All visitors are Welcome.

Club meeting's are where we can all come together to see old friends, make new friends, meet the person that goes with the voice and the callsign, find someone to help with a radio problem, learn other's experience with a piece of gear, or just plain yak with someone. We tell war stories, encourage new Hams, encourage old Hams, divulge our secret techniques of operating or fixing, discuss current Ham radio events, promote upcoming public service events or remember those we have done. For most meetings, we try to enlist an interesting presentation of a program topic about something in the communications world. We have had some very interesting topics presented. Sometimes we explain what's required and how to accomplish the best hamfest in the southeast, sometimes we horsetrade radio fleas at a club auction, and when December comes, we get all gussied up for our annual Holiday party.

It's important to come to club meetings because that's where everything comes together. You get to lobby members of our Board of Directors (and they really like to hear what everyone is interested in because it makes their job easier). Club meetings are such an important part of our group that we require attendance of at least 7 of the last 12 meetings to be eligible for nomination to our Board of Directors.
Latest MARS-W4BFB News:
Mobile users click here for complete News Box.
If you have news that needs to be added to the News box, send it to for review and posting.
Radio Links
posted 10/24/2014
Check out the updated Radio Links button in the navagation bar. It now has links for back issues of CQ Magazine, 73 Magazine and American Radio History which has links to many other radio and electronic magazines.
In Search of Net Manager
posted 8/12/2014
We would like to extend our thanks to John, WB2NHQ for graciously taking on the role of net manager for the nightly M2MEN sponsored by MARS. While we do appreciate his stepping up to the plate, we are still looking for an assistant net manager to help John in his duties. It is essential that we always have someone available to take on the duties of net manager. In the case that the net manager is out of town or otherwise unavailable, we will need the assistant net manager to be able to help and take on those responsibilities. If you are interested or have any questions as to what it means to be an assistant net manager, please contact John or any board member.
220 Jabber Net:
posted 8/12/2014
For those of you who have been around the MARS club for a while, you may be familiar with the "220 Jabber Net" that used to be run by Bryan, K4NET. With busy schedules and new nets, this net fell to the wayside.
However, due to many requests for it, Bob, K9TMU, has offered to get this net back up and running! He would like your input as to what day/time would be the most convenient for everyone to have this net. We would like it to interfere with as few other nets as possible (we know this will be difficult due to the number of popular nets in our area, but we would like to try our best).
If you have any questions, concerns, comments, or suggestions for this net, please get in touch with Bob, K9TMU or Bryan, K4NET.
To All Amateur Radio Operators:
posted 7/31/2014
The ARRL and Amateur Radio need your help as soon as possible. This is not a request for funding, but your assistance with HR-4969, a bill that would extend the protection of PRB-1 to those affected by Covenants, Conditions and Restrictions (CC&R's). Read more
[here]
.
New Meeting Location
posted 6/10/2014
MARS has a new meeting space, starting in July, 2014.
We will be moving our monthly club meetings to the newly completed Fellowship Hall at
St. Giles Evangelical Presbyterian Church
. The church is located in the Montclaire neighborhood at
2027 Emerywood Drive
. Here's the
[link]
to a short slideshow to give a bit of a photo tour of the new facility so that you know what to expect and what to look for.
W4BFB Supports CCTTA
Posted 3/29/2014
We will again be supporting the CCTTA Cycling Events at Charlotte Motor Speedway this year.
The first event is Wednesday, April 9th. We have to be in position by 6:00 pm as the event starts promptly at 6:30 pm. The event normally ends around 8:30 pm. We use a 440 simplex frequency for the event.
If you have never worked the event before and are interested we will partner you with a radio operator who has worked the event in prior years. Please send an email to N4MH if you are willing to volunteer your time for any of these events. They occur once a month for the next several months. The week of the event I will send out the assignment list for everyone who is working the event.
Mary Weddle - WC4T
Posted 3/1/2014
The Mecklenburg Amateur Radio Society just lost one of our first lifetime members. Mary Weddle, WC4T, went to be with the Lord after a difficult month of illness, she was 81. Mary was our club secretary and newsletter publisher for years in the 1980's and 90's. Mary's newsletter editions were award winning and widely acclaimed not just in our membership but also in neighboring counties.
In 1984 when the FCC started the Volunteer Examiner program to administer FCC amateur radio exams, Mary was one of the first Volunteer Exam Coordinators (VEC) in the United States. I have heard many Hams who took exams at one of her exam sessions remark about her caring, interest, and encouragement, toward their success (including candy). Mary also for years was the Saturday Metrolina 2 Meter Emergency Net controller. When she was there the Saturday night net had the largest participation and the longest airtime of the week. Mary was well known and loved by many Hams across all of our adjacent counties.
Mary's service will be Monday March 3 at Bible Presbyterian Church, 6237 Rumple Rd, Charlotte (just off of Sugar Creek in Derita). The visitation will be at 2:30, and the service at 3:30.
Charlotte Talks
updated 2/25/2014
Tuesday, Feb 25, Ham Radio will be the topic on "Charlotte Talks" with Mike Collins, WFAE FM 90.7. The show airs live @ 9AM and is replayed at 9PM. MARS's own Paul Jones K4VCF and TIm Slay N4IB will be in the studio live talking about ham radio, the upcoming Charlotte Hamfest and the ARRL's Centennial.
Hear the show now at
http://wfae.org/programs/charlotte-talks-wfae
Upcoming Public Service Events
For more information and to sign up to help, go to

ARRL News Feed
eHam News Feed